23 June. Day 1. Arrival and other things…
3-45 a.m.
Vasily: The scientific team of the 6th Class@Baikal cruise is finally grouped. Sleepy and tired people from Oslo and Moscow were welcomed at the airport by the friendly colleagues from Irkutsk. Destination Listvyanka. The plan for today was to visit a grocery store to buy some snacks, then board the vessel, mount and test scientific equipment, organize laboratories, and do the first core test. The beginning of our adventure started with bad news for Nikita: his luggage was lost, so he had to buy all the field gear and clothes (all of it!). Our boarding to the vessel (RV G.Yu. Vereschagin) went smoothly, and we left Listvyanka harbor. We unpacked all our equipment and prepared our laboratories for two weeks of research and we were finally ready to start with the first coring. The first coring station is also useful to show everybody all the procedures that will involve the cooperation of the whole team. Everyone has his/her own important task. Our test went smoothly and after a nice meal we ended our day.
Vladislav
I just landed in Irkutsk airport and was impressed by the fresh air and rich pine tree smell.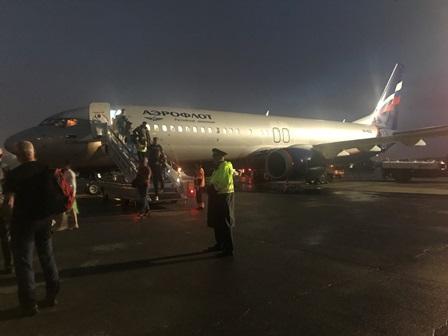 23/06/2019 8-30 a.m.
I am trying to sleep and suddenly (after four hours) understood that I am not Rakhmetov and I will never be able to sleep on any metal staff like airport bench… Total sleep is 1 hour in the flight and half an hour in the airport…
I now have a new word in my lexicon – BOZY – sounds strange, looks like huge 'pelmen' and is very popular meal here (originally made from horse meat).
23/06/2019 10-00 am
Finally, we met with the rest of the team! And now we are going to Listvyanka (50 km from the airport). We have to stop at the supermarket to buy some snacks, and continue our trip to the marina.
23/06/2019 12-00
We are finally onboard RV Vereschagin – it reminds me the movie "White sun of the desert".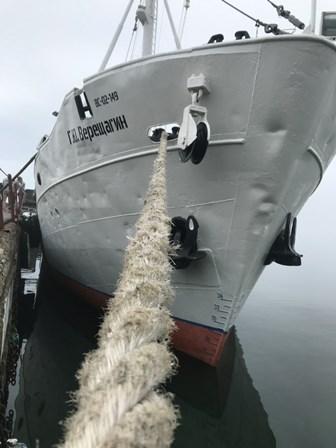 Some people around boat look like basmachies (armed indigenous Asian people) like in the movie.
We have half an hour before departure and we now have to choose: (a) to buy some local food (smoked fish and pine nuts) or (b) to have a lunch. Of course, we are heading to the local food markets. There are scenic rows full of fish smoked in different ways and it smells so strong …so we are buying a lot of it by non-friendly prices and will try to be onboard in time – Grigorii sent SMS "capt said we will depart in 30 minutes".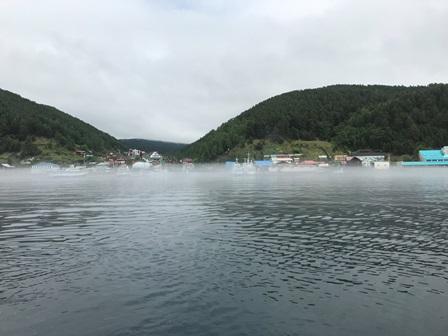 We are in time and have a lucky chance to meet with our cock – the lady has a severe look that turns into a gentle smile after my promise to share with her Crimean jam made from figs and nuts.
BEGINNING
We start: first of all, safety instructions about boat operations and dangers.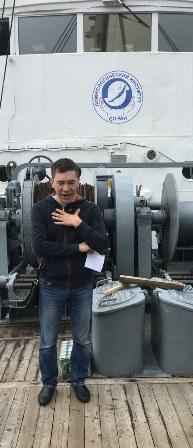 We are in a Water world, water is all around, fog is in the air and quiet and pure water is under the vessel.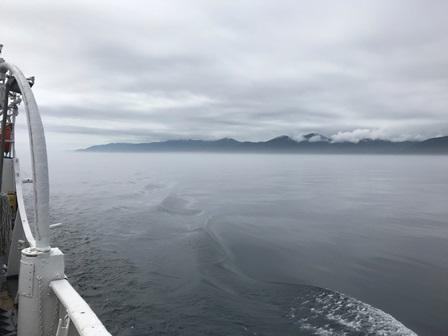 The first core: we do the first station to get familiar with the sampling procedures and core processing. We are sleepy and some may stop talking while formulating a sentence or don't react to direct questions…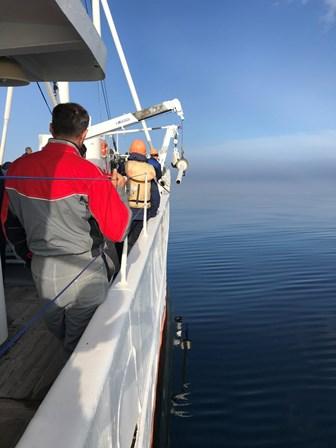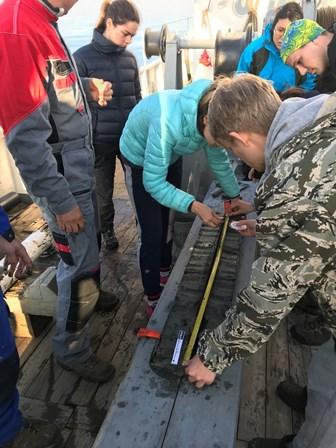 We did it, and we did it pretty well. Let's see what will be tomorrow… Now is SLEEPING time.