The 20th of July. Business before pleasure.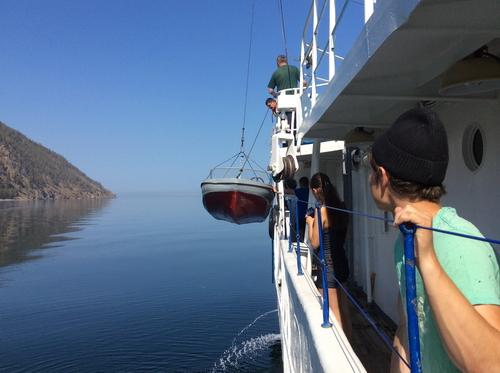 The 20th of July. Business before pleasure.
At dawn the surface of Lake Baikal is completely calm. The rays of the sun gently spread out over the surface of the water. Also smoothly participants of the expedition took over their duties in the new working day. Laboratory were waiting for new materials and samples, the deck was preparing new gravity cores.
Today we passed through 100 of stations. Exciting work continues, because each core is something new and mysterious and also evidence of scientific theories. When marine geologists had well-coordinated work, geophysics had "fun" watching with sonar for discharging gas focuses at the bottom of the lake.
Tomorrow comes the third and final leg of the expedition, which means the end of the work and relaxing on the shore of Lake Baikal. This idea is haunted by anyone of the participants since early morning.
In anticipation of an early end of the leg, the expedition soon after lunch started clean their laboratories and  make them into the  order. However, the next core broke our plans. That's why we had to work  "in the field" ...
In the evening we had barbecues, were swimming in the lake. Good mood, bright Baikal starry sky and return to Listvyanka made us happy
Thank you, Baikal, you will remain forever in our hearts!
Author: Arthur Kudaev and Ruslan Sahibgareev
Photos: Svetlana Bubnova, Arthur Kudaev